The British Museum
March 2009
The British Museum is magnificent! Go to London! Go to the Museum! I spent the better part of six days at the museum and I still didn't see all of the Greek antiquities. A visit to the British Museum is vital for the study of ancient Greece because it has thousands of artifacts from the various sites in Greece. Many of the photos I took at the museum are scattered throughout this website but I thought a general museum tour might be interesting.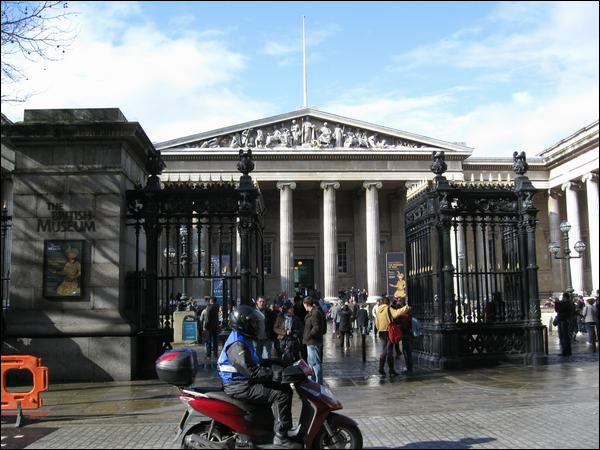 There it is!
The main entrance to the museum is on Great Russell Street … there's a rear entrance on the opposite side of the building which will take you into the North American antiquities section of the museum. I found the rear entrance by mistake (I was lost) and it wasn't until I came into the building that way that I truly grasped the sheer size of the museum … in the spirit of British understatement, I'll just say that it's quite large.
The images provided here are original and copyrighted. You may use these images on your website if they are accompanied by a link to mythagora.com and an unambiguous declaration that the images are copyrighted by M.W. Stewart. All other use of these images is strictly forbidden without written permission.
Copyrighted Material - All Rights Reserved