Eris
Ἔρις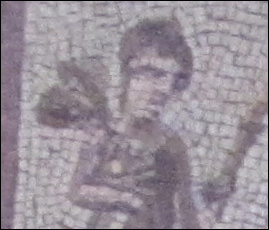 Goddess of Discord and Strife
The Daughter of Nyx [Night]
Eris is the daughter of black Nyx [Night]. Her influence can be felt in every quarrel, feud and disagreement on the face of the earth and even on the heights of Mount Olympos. Although she is considered untrustworthy by the Olympians, they are careful not to provoke her ... she is justifiably feared and respected for the eternal and unrelenting strife she can engender.
As the daughter of Nyx, Eris is the sister of Nemesis [Indignation], Geras [Old Age], Philotes [Friendship] and Apate [Deceit]. Of the daughters of Nyx, Eris is perhaps the most frightening because of her subtlety. Nemesis is a powerful goddess but she only acts when Zeus commands retribution or punishment. Geras is only frightening to those who allow old age to make them fear the future. Philotes is a goddess who needs to be embraced with caution because unwise friendships can be emotionally and financially costly ... to paraphrase an old adage, "Cheat young men with dice and old men with oaths of friendship." Apate can cause frustration but compared to Eris, her deeds are quite petty.
The poet Hesiod is credited as the author of the definitive work on the Greek Immortals, Theogony. In another of his poems, Works and Days, Hesiod explains that there are actually two goddesses named Eris ... "one is praised when men understand her; the other is blameworthy" ... Hesiod explains that strife and discord can serve as positive motivators ... it's when we allow our hardships and disagreements make us do things we regret that the negative aspects of Eris are manifested.
The Judgment of Paris
The roots of the animosity between the Greeks and the Trojans might be traced to one defining moment ... that incident has become known as The Judgment of Paris but a more appropriate name would have been The Judgment of Alexandros.
Prince Alexandros of Troy was sometimes called Paris in the Iliad but now the name Alexandros has been forgotten ... the name Paris has supplanted that of Alexandros because modern artists and poets seem to prefer the name Paris for its simplicity and uniqueness.
The Judgment of Alexandros took place on the slopes of Mount Ida just prior to the Trojan War, i.e. prior to 1250 BCE ... the occasion was the marriage of the Nereid Thetis and a mortal man named Peleus. Being allowed to marry a goddess was a reward for Peleus because of his undying devotion to the gods on Mount Olympos. Being forced to marry a mortal was a punishment for Thetis because she had refused the amorous advances of Zeus ... she was being taught a lesson in humility.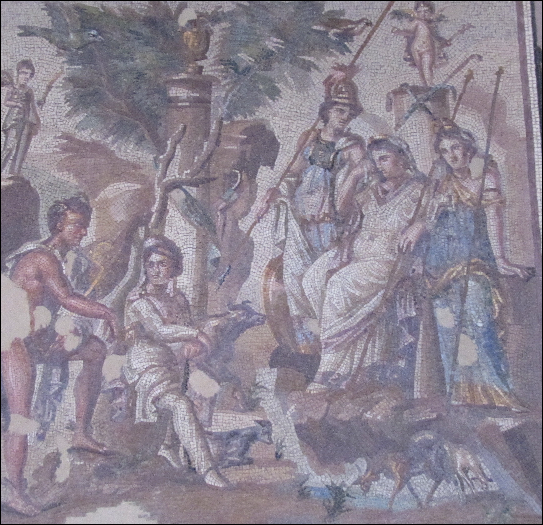 The above depiction of the Judgment of Alexandros clearly shows Alexandros seated with Hermes looking over his shoulder. Athene, Hera and Aphrodite are to the right with Eros [primal love] watching from the top of a column behind them. The goddess standing on the rock outcropping in the upper-left is undoubtedly Eris ... she seems pleased with the results of her handiwork.
The goddess Hera made sure the wedding was well attended ... one of the most notable Immortals at the wedding was the goddess Eris. She did not come to celebrate ... she came to cause trouble. Eris tossed down a golden apple in the midst of the goddesses ... the inscription on the apple said, 'For the most beautiful one.' Naturally, Hera, Athene and Aphrodite all assumed that the prize was for them and when the intended conflict arose, Hermes escorted the three goddesses to Mount Ida so that Prince Alexandros [Paris] could make the final decision as to which goddess deserved the golden apple. Alexandros was placed in a very difficult position but that's exactly what Zeus intended.
The drama that was unfolding at the wedding of Thetis and Peleus was simply the first step in a coordinated series of events that would culminate with the Trojan War. Zeus was using Eris and the other Immortals to help him rid the earth of the demigods, i.e. the sons of Immortals and human women. His own daughter Helen was used to help perpetuate his plan but she was not sacrificed in the war or its aftermath.
Alexandros could not escape his destiny ... he had to choose the most beautiful goddess but which one should he choose? Hera has always been the most beautiful goddess on Mount Olympos ... he could not ignore the fact that she was the sister/wife of Zeus ... she seemed like an obvious choice. Athene is the virgin goddess of wisdom and even though she is sometimes called the Grim-Goddess, she is quite beautiful by any mortal standard. Aphrodite is the goddess of love ... her charms and enchantments were legendary ... Alexandros should have chosen Aphrodite for those reasons alone but his choice was based on greed and desire ... beauty had nothing to do with it. Aphrodite told Alexandros that if he selected her, she would give him the most desirable woman in the world ... she would give him the daughter of Zeus ... she would give him Helen of Sparta.
Alexandros immediately understood what that meant. Helen's beauty was beyond compare ... when poets sang about her, she was always compared to a goddess ... and rightly so. Even when she was a young girl, her grace would make men to swoon. When her father let it be known that he was seeking a husband for Helen, suitors came from all over the civilized world ... not ordinary men ... Helen's suitors were the finest specimens of manhood to walk the earth. Her father made them all take a solemn oath that they would peacefully abide by his choice and more importantly, they would all come to Helen's defense if she should ever be taken from her husband. Helen's father knew all to well the hypnotic effect she had on men.
Alexandros chose Aphrodite as the most beautiful goddess because he wanted Helen ... the apple that Eris used to start the conflict between Hera, Athene and Aphrodite was nothing less than the seed for ten long bloody years of war ... the Trojan War was one of Eris's finest moments.
Eris at Troy
During the Trojan War, Eris rode into battle on the side of the Trojans with her brother and companion, Ares [god of war]. She is more generally known for the less deadly forms of conflict; political strife, personal contention, rivalry and wrangling but the potential for evoking her deadly nature is ever present.
Eris would appear frail and small as she entered the fighting but as she strode through the carnage she would get larger and larger until her head would brush the heavens. She hurled cruelty and hatred down on the fighting men ... she would groan with pleasure as she watched the melee ... her countenance was so dreadful, the timid Immortals kept their distance. Eris was called the Lady of Sorrow and she fought alongside Apollon and Ares in the defense of Aphrodite's beloved son, Aineias.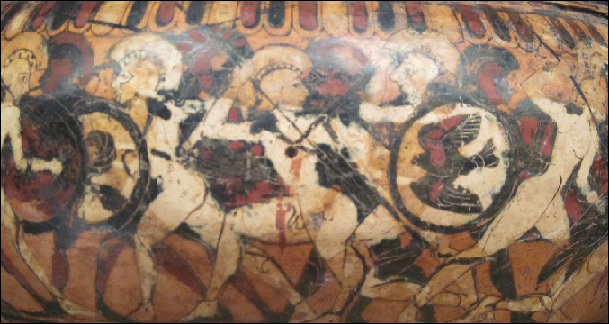 One of the more dramatic moments of the Trojan War was when Achilles's companion Patroklos was killed while he was wearing Achilles's armor. Trojan Prince Hektor stripped Achilles's armor from Patroklos's dead body and Zeus fitted the glorious armor to Hektor's body. Seeing Prince Hektor in Achilles's armor, the Trojans imagined that they had achieved a significant advantage but in reality they had provoked a murderous rage in Achilles's heart that could only be assuaged with the blood of countless Trojans.
Before he could begin his rampage, Achilles needed new armor. His mother Thetis went to Hephaistos, Smith of the gods, for Achilles's new armor. The divine armor was animated and alive with a variety of scenes from everyday life ... some scenes were peaceful but since the shield was for the most vicious fighter in the world, the majority of the scenes were extremely violent. One of the bloodiest depictions on the shield was of Eris walking through the battle carnage, stained with blood, carrying a wounded man and an unwounded man in her arms and dragging a dead man by his feet ... Eris was fighting with Kydoimos [Confusion] and Kera [Black Fate] as they dragged away the corpses of the men who had fallen in the animated battle on the shield.
The Children of Eris
It is interesting to note that of all the children of Nyx, Eris is the only one to have children of her own. The children of Nyx seem to be "forces of nature" that manifest themselves without invocation ... the children of Eris are a Who's Who of the darker aspects of human behavior.
In the poem Theogony by Hesiod, Eris's children are listed without elaboration because their names more or less say it all.
| | | | |
| --- | --- | --- | --- |
| Algea | Αλγεα | Pains | line 227 |
| Amphillogias | Αμφιλλογιας | Disputes | line 229 |
| Androktasias | Ανδροκτασιας | Manslaughters | line 228 |
| Ate | Ατην | Blindness/Ruin | line 230 |
| Dysnomia | Δυσνομιην | Lawlessness | line 230 |
| Horkos | Ορκον | Oath | line 231 |
| Hysminai | Υσμινας | Fightings | line 228 |
| Lethe | Ληθην | Forgetfulness | line 227 |
| Limos | Λιμον | Starvation | line 227 |
| Logos | Λογους | Words | line 229 |
| Machai | Μαχας | Battles | line 228 |
| Momos | Μωμος | Blame | line 214 |
| Moerae | Μοίρας | Destinies | lines 217 & 904 |
| Neikea | Νεικεα | Grievances | line 229 |
| Phonoi | Φονους | Murders | line 228 |
| Ponos | Πονον | Hardship | line 226 |
Eris is often confused with the Roman goddess, Discordia.
Eris in the Iliad
[from four different translations]
Richmond Lattimore
Iliad - book 4, line 440 - Ares drove these on, and the Achaians grey-eyed Athene, and Terror drove them, and Fear, and Hate whose wrath is relentless, she the sister and companion of murderous Ares, she who is only a little thing at first, but thereafter grows until she strides on the earth with her head striking heaven. She then hurled down bitterness equally between both sides as she walked through the onslaught making men's pain heavier.
Iliad - book 5, line 518 - So Aineias stood among his friends, who were happy as they saw him coming back alive, and unwounded and full of brave spirit; yet they asked him no question, for the rest of their fighting work would not let them, that the silver-bow god woke, and manslaughtering Ares, and Hate, whose wrath is relentless.
Iliad - book 11, line 73 - ... so Trojans and Achaians driving in against one another cut men down, nor did either side think of disastrous panic. The pressure held their heads on a line, and they whirled and fought like wolves, and Hate, the Lady of Sorrows, was gladdened to watch them. She alone of all the immortals attended this action ...
Iliad - book 18, line 535 - These stood their ground and fought a battle by the banks of the river, and they were making casts at each other with their spears bronze-headed; and Hate was there with Confusion among them, and Death the destructive; she was holding a live man with a new wound, and another one unhurt, and dragged a dead man by the feet through the carnage.
Iliad - book 20, Line 48 - But after the Olympians merged in the men's company strong Hatred, defender of peoples, burst out, and Athene bellowed standing now beside the ditch dug at the wall's outside and now again at the thundering sea's edge gave out her great cry, while on the other side Ares in the likeness of a dark stormcloud bellowed, now from the peak of the citadel urging the Trojans sharply on, now running beside the sweet banks of Simoeis.
Loeb Classical Library
Iliad - book 4, line 440 - And the Trojans were urged on by Ares, and the Achaeans by flashing-eyed Athene, and Terror, and Rout, and Strife who rages incessantly, sister and comrade of man-slaying Ares; she first rears her crest only a little, but then her head is fixed in the heavens while her feet tread on earth. She it was who now cast evil strife into their midst as she went through the throng, making the groanings of men to increase.
Iliad - book 5, line 518 - And Aeneas took his place in the midst of his comrades, and they rejoiced as they saw him coming to join them alive and whole and possessing noble courage. But they questioned him not at all, for toil of another sort did not allow them, the toil which he of the silver bow was rousing, and Ares the bane of mortals, and Strife that rages without ceasing.
Iliad - book 11, line 73 - ... the Trojans and Achaeans leapt on one another and slaughtered, nor did either side take thought of ruinous flight; and equal heads had the battle, and they raged like wolves. And Strife, who causes many groanings, rejoiced as she looked on; for alone of the gods she was with them in their fighting ...
Iliad - book 18, line 535 - Then they set their battle in array and fought beside the riverbanks, and were ever striking one another with bronze-tipped spears. And among them Strife and Tumult joined, and destructive Fate, grasping one man alive, fresh wounded, another without a wound, and another she dragged dead through the melee by the feet; and the raiment that she had about her shoulders was red with the blood of men.
Iliad - book 20, line 48 - But when the Olympians had come into the midst of the throng of men, then up leapt mighty Strife, the rouser of armies, and Athene cried aloud—now standing bedside the trench dug outside the wall, and now on the loud-sounding shores, she would utter her loud cry. And from the opposite side shouted Ares, dread as a black tempest, shrilly urging the Trojans on from the topmost citadel, and now again as he sped by the shores of Simois toward Callicolone.
Robert Fagles
Iliad - book 4, lines 511, 513 and 515 - Ares drove them, fiery-eyed Athena drove the Argives, and Terror and Rout and relentless Strife stormed too, sister of man-slaughtering Ares, Ares' comrade-in-arms—Strife, only a slight thing when she first rears her head but her head hits the sky as she strides across the earth. Now Strife hurled down the leveler Hate amidst both sides, wading into the onslaught, flooding men with pain.
Iliad - book 5, line 599 - ... Aeneas ... the captain took his place amidst his men. And how they thrilled to see him still alive, safe, unharmed and marching back to their lines, his soul ablaze for war, but his men asked him nothing. The labor of battle would not let them, more labor urged by the god of the silver bow and man-destroying Ares and Strife flaring on, headlong on.
Iliad - book 11, lines 84 and 86 - ... so Achaeans and Trojans closed and slashed, lunging into each other and neither side now had a thought of flight that would mean disaster. No, the pressure of combat locked them head-to-head lunging like wolves, and Strife with wild groans, exulted to see them, glaring down at the melee, Strife alone of immortals hovering over fighters.
Iliad - book 18, line 623 - ... lining up for assault both armies battled it out along the river banks—they raked each other with hurtling bronze-tipped spears. And Strife and Havoc plunged in the fight, violent Death—now seizing a man alive with fresh wounds, now one unhurt, now hauling a dead man through the slaughter by the heels, the cloak on her back stained red with human blood.
Iliad - book 20, line 57 - But once the Olympians merged with the mortal fighters, Strife the mighty driver of armies rose in strength and Athena bellowed her stunning war cry—standing now at the edge of the deep-dug trench outside the rampart, now at the thundering cliffs she loosed her vibrant cry. And Ares bellowed his cry from far across the lines, churning black as a whirlwind, roaring down now from the city's crest, commanding Trojans on and now rushing along the Simois banks and scaling Sunlight Hill.
Robert Fitzgerald
Iliad - book 4, line 532 - This great army Arês urges on; the other, grey-eyed Athêna, Terror and Rout, and Hate, insatiable sister-in-arms of man-destroying Arês—frail at first, but growing, till she rears her head through heaven as she walks the earth. Once more she sowed ferocity, traversing the ranks of men, redoubling groans and cries.
Iliad - book 5, line 594 - ... Aineías, with his fighting spirit restored. He stood again amid his peers, to their relief; they saw him whole, without a scratch, and hot for war—but no one there could pause to question him; Apollo brought new toil upon them now, with Arês, bane of men, and Strife insatiable.
Iliad - book 11, line 81 - ... those armies moved to cut each other down, and neither Trojans nor Achaians thought of ruinous retreat. The line of battle held them face to face, lunging like wolves, and Strife who thrives on groaning looked on that field in joy, for she alone of goddesses or gods mixed in the fighting.
Iliad - book 18, line 615 - Battle lines were drawn, and on the riverbanks the fight began as each side rifled javelins at each other. Here then Strife and Uproar joined the fray, and ghastly Fate, that kept a man with wounds alive, and one unwounded, and another dragged by the heels through battle-din in death.
Iliad - book 20, line 53 - When the Olympians joined the lines arrayed, Strife came in power, goader of fighting men. Then standing by the moat outside the wall or on the shore of beating surf, Athêna shrieked, and her adversary, Arês, yelled across from her, like a pitch-black hurricane roaring to Trojans from the heights of Troy, or veering by the course of Simóeis on Kallikolônê.
Other Text References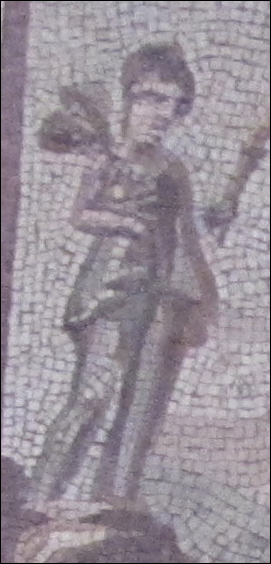 Theogony
line 225 - Also deadly Nyx [Night] bare Nemesis [Indignation] to afflict mortal men, and after her, Apate [Deceit] and Philotes [Friendship] and hateful Geras [Old Age] and hard-hearted Eris.
line 226 - Abhorred Eris bare Ponos [Hardship], Lethe [Forgetfulness], Limos [Famine], tearful Algea [Pain], Hysminai [Fighting], Machai [Quarrels], Phonoi [Murders], Androktasiai [Manslaughters], Neikea [Grievances], Logoi [Lies], Amphillogias [Disputes], Dysnomia [Lawlessness], Ate [Blindness or Ruin] and Horkos [Oath].
Works and Days
line 11 - There are two goddesses called Eris; one is praised when men understand her; the other is blameworthy ...
line 16 - Men pay harsh Eris her due honor with war and cruelty; she is the elder daughter of Nyx [Night] and Zeus ...
line 24 - when Eris promotes competition, she is wholesome for men ...
line 28 - Hesiod urges his brother Perses not to let Eris, who delights in mischief, to hold his heart back from work ...
line 804 - Hesiod advises his brother Perses to avoid fifth days; they are unkindly and terrible. On a fifth day, they say, the Erinyes assisted at the birth of Horkos [Oath], whom Eris bare to trouble the forsworn.
Shield of Herakles.
line 148 - The shield of Herakles had animated images which included one of Phobos [Fear] with frightful Eris, who arrays a throng of men for battle, upon his brow.
line 156 - Animated on the shield of Herakles, Eris was there with Kydoimos [Uproar] and Kera [Fate].
Kypria
fragment 1 - Eris arrives at the wedding of Thetis and Peleus and starts a dispute between Hera, Athene and Aphrodite [goddess of love] as to which of the goddesses is the most beautiful.
Description of Greece by Pausanias
Pausanias - book 5 [Elis 1], 19.2 - There is also Melanion by whom is Atalanta holding a young deer. Aias [Ajax] is fighting a duel with Hektor, according to the challenge [Iliad, book 7, line 225 - Loeb, Lattimore, Green translations], and between the pair stands Eris in the form of a most repulsive woman. Another figure of Eris is in the sanctuary of Ephesian Artemis; Kalliphon of Samos included it in his picture of the battle at the ships of the Greeks. On the chest are also the Dioskuri [Kastor and Polydeukes], one of them a beardless youth, and between them is Helen.
Pausanias - book 9 [Boeotia], 31.4 - The Boeotians dwelling around [Mount] Helikon hold the tradition that Hesiod wrote nothing but the Works [Works and Days], and even of this they reject the prelude to the Muses, saying that the poem begins with the account of the [two] Eris' [Strifes']. They showed me also a tablet of lead where the spring is, mostly defaced by time, on which is engraved the Works.
Copyrighted Material—All Rights Reserved